Sunday, January 21, 2007
It's All In The Tease..
Just a tease? Maybe. But what is wrong with the tease?
Tease is erotic.
Tease is excitement.
Tease is foreplay.
Tease is control.
Control is what I do best.
Call and let me tease and control you.
Wednesday, January 17, 2007
Mistress is Pleased...

Steve is such a good little slave.
Don't you love the earrings he sent?
He knows how to please his Mistress.
And a good slave is
always
rewarded.
Sunday, January 14, 2007
Call It What It Is...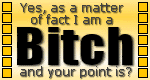 But, you know you can't resist me. A bitch is what you really want. Someone in total control.
You only cum when I say you can. Then it is on my terms.
A BITCH? Of course.
But neither one of us would have it any other way.