Sunday, January 14, 2007
Call It What It Is...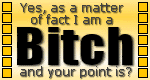 But, you know you can't resist me. A bitch is what you really want. Someone in total control.
You only cum when I say you can. Then it is on my terms.
A BITCH? Of course.
But neither one of us would have it any other way.
Comments:
Mistress Taylor,
I feel this was written for me. My only desire is to please you completely. This can only be done by giving you complete control over me. My life is so changed since I am under your spell.
Submissive steve
Post a Comment
<< Home